The call of the water has always been strong for Bruce Gipple. As a tug captain he spent 15 years navigating N.W. waters and has stayed connected to the water as a guide for the past 33 years. Bruce will tell you that his success is no accident. Thanks to the support and assistance of his partner and wife, Peggy, the Gipple's have logged decades of hosting high performance fishing trips for people all over the world. Bruce's passion for catching fish in Alaska and taking people fishing is only eclipsed by Bruce and Peggy's commitment to serving you.
Bruce, along with his other guides and crew are a formidable fishing team whose only goal is the success of your fishing experience. Bruce has hand-picked each team member who has a proven record of success in Sitka, Alaska and is fully certified by the U.S. Coast Guard. Seasoned, skilled professional guides and a seamless adventure is the product of decades of earned experience.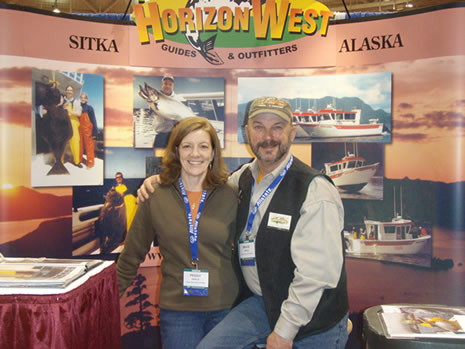 By June, the days are long in Sitka as morning starts with a hearty breakfast. A short trip to the dock at daybreak is met with soaring eagles and one of the most magnificent and stunning vistas in the world. Snow-capped peaks rise three thousand feet from the ocean as boats cut the inside waters skirting island passages as they make their way west to the fish.
Custom-built 30' Coldwater boats are the ultimate platform to enjoy these waters. Sure, stable, safe and ideally built and laid out for this fishery, Bruce spared no expense in making sure each of his fleet of boats was perfect. There's ample deck space and with 10' of beam, plenty of interior space, so everyone has ample elbow room. The cabins in these boats are heated and feature bathrooms for your comfort. In short, these are fishing machines, designed specifically to catch fish in Alaska.
Expect to spend 20 minutes to an hour running to the fishing grounds. Horizon West Guides fish where the fish are so the run varies depending on where the schools of salmon are concentrated. No worries, you'll spend that time taking in the Alaska that people dream to experience. A dozen varieties of sea birds, sea lions, a breaching whale or playful Dall's Porpoise are just a few of sights we encounter each trip. We may be rewarded with a bear or orca... every day's a little different.
The trip to the fish is energizing and sets the stage for the remarkable experience we're excited to share with you.
The fishing's world-class. We're fortunate to have the feed and proximity we do that pulls huge schools of fish into the area. We have all five species of salmon but most of the attention is given to Chinook (king) and Coho (silver) salmon.
Generally, we'll start your day fishing salmon. If that's the case we'll arm you with our mooching gear that allows you to hold the rod, feel the bite, set the hook and fight the fish. You're fishing from start to finish. It's your arms that will get sore not ours' as you face the challenge of ocean fresh salmon that fight with storied ferocity --- fish after fish after fish. This is what fishing in Alaska is all about.
Our deep water fishery for halibut is world-renowned too. From "barn doors" to "chickens" we have fish that range from tackle-busters that will take you to your knees to prime cuisine that put up quite a battle but are even better on the barbeque. Sitka's a fishing capital, no argument there and with plenty of sidebar action in ling cod, chum salmon, Dolly Varden and a dozen other bottom dwellers there's plenty to keep you busy.
We include a deli-style lunch every day along with beverages. It's a full day on the water too. We generally leave at first light (5:00 AM from the docks) and return to port around 3:30 in the afternoon. Trust us, you'll sleep well every night.
Your Horizon West trip isn't over when the boat's back in the harbor. We'll take care of your catch while you clean up at the lodge, maybe take a nap or stroll along the waterfront. Horizon West trips also include the use of our complimentary cars that are available for local sight-seeing or a trip into town. Sitka's a wonderful destination filled with native culture, shops, great restaurants, nature trails and remarkable diversity. You'll want to take it all in when you're here --- it's a big part of what makes Horizon West trips so special.
Great fishing and a fabulous destination --- Sitka, Alaska and Horizon West Guides are the ideal combination for your trip of a lifetime. Enjoy the Alaska dream, experience it fully through Horizon West Guides --- your gateway to the best fish in Alaska, and your complete Alaskan adventure!