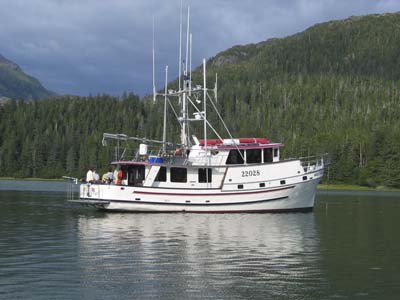 After 37 years of successfully building and growing Horizon West Guides, we have reached a point in our operations where we are at the top of our game, and there is little room for improvement in its present form.  Our operations have really come into their own as "best in category", an achievement we're very proud of.  I've never settled for maintaining "status quo" and I've always said, "In business, your either moving ahead or falling behind" which brings me to our latest venture.
Horizon West, again, running at capacity and more people waiting for dates to open up has decided to add another boat to our fleet. Not just any boat, we have just purchased the 60'Charter Vessel "HUNTRESS", which will allow us to offer a whole new adventure to you.
She is a state of the art boat made completely for doing nothing else but exploring remote SE Alaska for weeks on end with plenty of room for up to 6 passengers plus crew with 5 staterooms. Made of all fiberglass, and maintained impeccably by the previous owner, she's well-equipped for long range cruising and sports a massive salon in the wheelhouse for 365 degree viewing as you're chugging along the Inside Passage of SE Alaska.
Imagine waking in the morning, in the back of a secluded, remote, pristine cove, all alone, sipping your coffee on the back deck, breathing in clean salt scented air, and having the difficult task of deciding what to do today. As you think to yourself, "after we pick up the crab or shrimp pots we put out last night, do I want to go fly fishing for salmon, trout or steelhead or do I want to go mooch for salmon or jig for halibut in the salt. Maybe I'll play with some "codlies" in the kelp. Or, I guess I could just take a bunch of pictures and go back and take a nap". So many decisions, but you have all week to fit it in.
The HUNTRESS will be crewed by Captain Bruce Gipple and/or Captain Ron Bowman, with Joey Zimmerman running as first mate. Capt Ron and Joey both love to cook, and will be fighting to serve you gourmet meals.
The length of our trips will be 5 days and 6 nights, except for May and September which will be 6 days and 6 nights at the same price. In those months we will be doing more stream fishing as well as fishing the salt which requires more running between locations. Rates will be on a per person basis, and will be determined by the amount of people in your group.
We invite and encourage you to join us on this new Horizon West Adventure.  You'll enjoy the majestic scenery, wildlife and fishing on the planet in the comfort of a remarkable boat and crew that's tailored for this experience.
Rates
# in group------rate per person
6 ------- $4150
5 ------- $4450
4 ------- $4650
3 ------- $5650